Even in today's modern age, retro style and decor are still present in many households. Home interior design was a huge thing in the 1970s; however, as with everything, trends come and go, which is what has happened with many decor trends over the decades. But, the retro look has maintained its popularity and is still popular in many homes.
It can be quite challenging to find the perfect retro piece and theme for your home. The good news is that this style is super easy to work with, and we are sure that you'll find lots of 70s pieces that you'll love.
During this era, a lot of wallpaper florals and geometric shapes dominated the interior design in households. It was the era when fabric designs came into play and introduced many elements like patterned chairs and aesthetic throw pillows.
In this article, we'll guide you through some of the best ways to transform your home into an urban yet vintage-style pad. And, of course, you should enjoy the process while incorporating each piece into the home.
Add 70s-Style Funk to Your Home Decor
Let's learn more about common decoration practices and add some funk to home decor.
Transform the Living Room
First, let's start with the living room. Since this is the place you're spending most of your time, it has to be your comfort zone and an area where you will feel cozy and relaxed. Choosing the right furniture is crucial, so make sure you embrace a unique style and make the retro-themed interior look groovy.
Adding Rugs in the Living Room
Vibrant 70s-style rugs never went out of fashion. If you're a huge fan of the '70s style, then incorporating a rug in the living room is ideal. It will help to complement other retro decors, such as wooden-angled tables, arc-shaped cabinets, or wooden chairs.
Adding earth colors and hippie accents will help you define the atmosphere and make your furniture even more noticeable.
Get a Togo Sofa
If you want to make your home look bold and cozy at the same time, get a Togo sofa if you can afford it. Another more cost-effective alternative is a leather armchair for a more Brownstown and rustic style.
2 Adding Wooden Elements in the Dining Room
The dining room and the kitchen are often in the same area. This place is one of the most important parts of the home; it's the area where you store supplies, prepare food, and have lunch and dinner.
If you want to leave an impression on your guests, then transforming the kitchen and the dining room into a '70s design is a great way to achieve this goal.
Adding Cabinets
Another way to achieve the famous '70s style is to add cabinets with sliding glass doors in the dining area. With the soft geometric shapes, the cabinets will look great on the walls.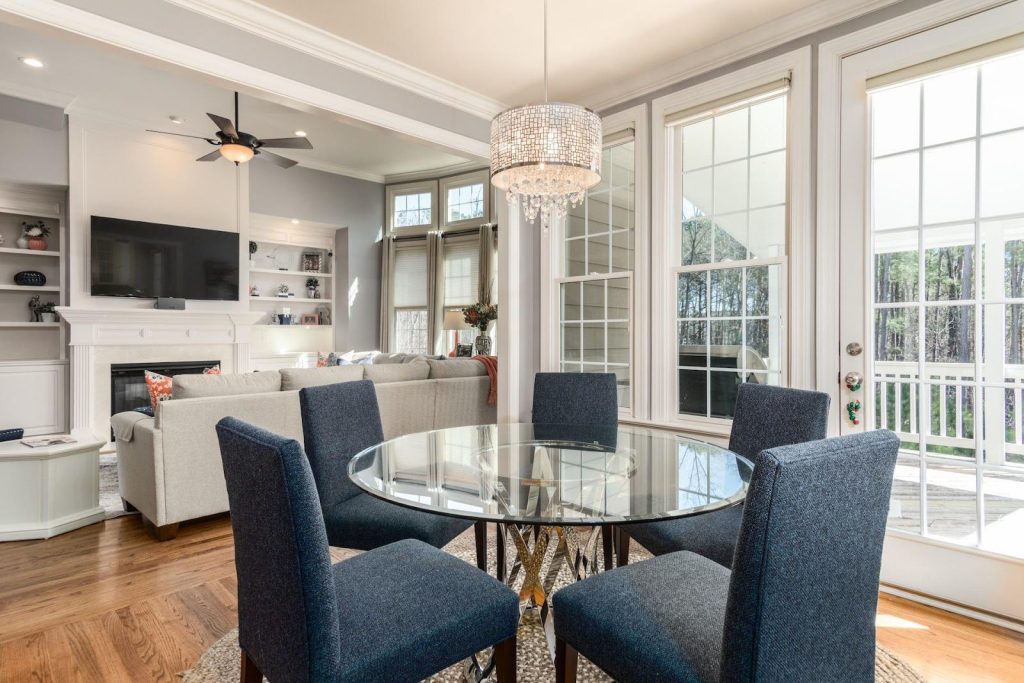 Copyright: Douglas Sheppard on Unsplash I License: CC0 Public Domain
Install Wood Planks
Installing wall planks is a popular trend nowadays. It has a deeper meaning to many people, aside from being a simple way of decorating the walls. You can add your family heirlooms on open shelves or showcase your favorite items and souvenirs from your travels abroad.
Sheer Curtains
Matching short, sheer curtains with a valance on the window's top is another way of introducing the 70s style. These curtains cover only the bottom half of the windows and are perfect for allowing natural light to pour in.
Create a Warm Ambience in the Bedroom
When it comes to bedroom design, many people like it simple and clean. Earthy and toned-down color palettes are preferred by many, while others prefer colorful and bold schemes.
Adding retro lamps will bring that cozy feeling and a warm ambiance to the room. A lava lamp would be perfect in this case. You can also add quirky wallpapers or a shag carpet.
Incorporate Psychedelic Colors in the Bathroom
Bathrooms in the 70s were known for their yellow, turquoise, brown avocado, orange and green colors. It was during this era that the boldest and most unique designs were created. And if you want to bring old-school appeal to the space, a shiplap wall will do it perfectly.
Installing vinyl and linoleum flooring is the icing on the cake and a step further toward creating the perfect retro look with patterned flooring.
Match and Mix Styles
Make sure you mix and match styles to create that retro feel in any room in your home. Start small, and build upon the elements you'd like to implement in each room. Home interior design
Let's Sum Up!
Before summarizing, let's pay attention to the differences between a retro and a vintage theme. A retro theme was born in the 1970s and tends to look more modern and lively compared to the vintage style.
The vintage style became popular in the 1920s up to the 1960s. It involved using styles and furniture from previous generations to create a pre-contemporary design in the home. Both styles remain popular today, but the retro style has managed to stand the test of time for close to half a century. Home interior design
We hope you liked our ideas and suggestions on how to transform your home into the 70s era. With the right steps, you can enjoy stepping back in time and soaking up the retro ambiance in your very own home.